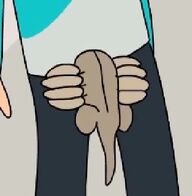 The Crotch Hugger is an Alien Jay encounters on a Mission, it latches onto his Crotch,and gives him self-pleasure.
He debates whether to remove it, or keep it when he encounters a Humanoid Cat on a Date. When they`re just about ready to make love,he has to get rid of it. He flushes it down the Toilet, but one more comes out of his Chest.
This creature is a clear reference to the Facehugger from Alien vs Predator
and even its name Crotch Hugger is a word game similar to Face Hugger
Ad blocker interference detected!
Wikia is a free-to-use site that makes money from advertising. We have a modified experience for viewers using ad blockers

Wikia is not accessible if you've made further modifications. Remove the custom ad blocker rule(s) and the page will load as expected.